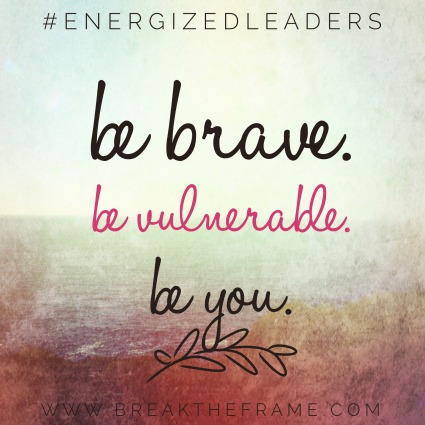 When I was traveling last week, copies of my new co-authored book, Energize Your Leadership, arrived at my house. My kids were so excited to show me on FaceTime that evening. I was even surprised when they said that they wanted to read it – it's atypical reading for elementary age kids. They quickly flipped to my chapter, Be Seen for Who You Are, and offered to start reading immediately. I let them know it was okay to wait when we could sit together instead of screen to screen. 
Now back home, I had just cleaned up from breakfast and was relaxing at the table with a cup of coffee when my daughter sat next to me.  She opened the book to my chapter and started reading aloud. I was feeling a little shy about it and tried to discourage her.
"Honey, let's read something you want to read. You really don't have to read it."
Her only reply?  "I want to."
What was I so afraid of her uncovering? After all, it's my story, my truth about discovering what happens when you stop trying to fit in and just be yourself. I think it was because there was a story in there that I never told her, and she was front and center. 
As she started reading, she paused often and looked me in the eye. She patted my shoulder, hugged me as she continued. Finally she asked, "is this true?" 
She was wondering how I, her mother, chose to miss her brother's birthday, my birthday, and celebrating my wedding anniversary in a single year of work travel. I was so busy becoming a success; I missed the essential element of bringing all of me along for the journey.  It's a choice I vowed never to make again, even when being seen as messy and human makes me uncomfortable. 
This morning, my son woke up and asked me to take him to the doctor's office to have them look at a cut that was really hurting him. There was a time I would have done my best to convince him and to convince myself that he's fine.  Seeing the doctor for a cut is a waste of time – time that could be spent working. 
Today, I not only made the choice to have the cut looked at, but also I'm telling you, my readers. I am a woman who runs a business, blogs, and also has a life filled with family, travel, adventure and the everyday mundane. The only hard call I made today was to quickly postpone an appointment that was infinitely less important than my son's wellbeing.  
So often, I read books and blogs where the writers feel superhuman to me. I wonder about who they are underneath their expertise. That's what I love about Energize Your Leadership. Not only did I tap into my vulnerability to share with you my greatest lessons to help you be seen for who YOU are, but also my co-authors courageously shared intimate stories of success, failure, hardship, love and loss in service of your success. 
Energize Your Leadership is a collection of stories that you will relate to because they're real, not polished perfection. Each of us re-energized and re-imagined our personal leadership and are giving you the tools to do the same.  
I invite you to read the book and to share your stories too.  Sharing the less than perfect bits are what makes you uniquely you.  
Here are my 11-year-old daughter's ahas from my chapter. She has some great takeaways to help you learn to be seen for who you are too. 
Be you, even when it's unpopular. 

Be brave, people who don't like you for who you are aren't really your friends.

Don't make choices that make you sad. 

Speak up and see what happens.  Nothing will change if you aren't brave.

Accept yourself.

Don't forget the people who matter to you. 
If you were to dare yourself to be seen for who you are, what's the first step you'd take?
Energize Your Leadership is available in paperback and Kindle on Amazon.