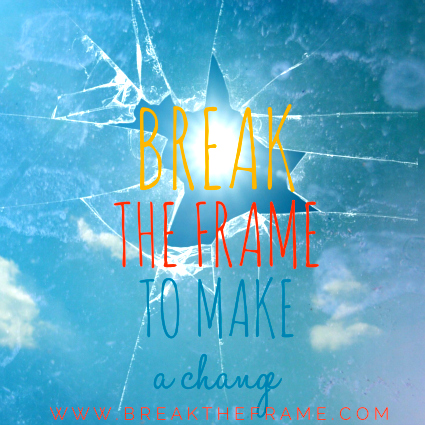 This year I shared real-life lessons in service of your real-life leadership and personal development. As I looked back to see what the most popular posts were from the past year, I also took a beat to think about planning for the new year. My promise for 2016 is that I will continue to share actionable insights to enable you, my readers and coaching clients, to break the frame and make a change.
Here are three big things I learned about you, the Break the Frame readers:
1) You are committed to self-improvement, personal development and enhancing your personal leadership.
2) Like me, you're oftentimes overwhelmed and stretched to never before known limits.
3) To quote Bob Dylan, "I Feel a Change a Comin' On."
Top 10: Break the Frame to Make a Change in Your Life and Leadership
These are the ten posts on the Break the Frame blog that had the most traffic over the last 12 months. If you're new to Break the Frame, or want simply want a resource for the most popular and power packed posts, this is for you.
Big personal development myths are blown to bits – are you still holding on to these stories? There is also a graphic for you use to increase the learning integration from your dollars, time, and effort spent on your personal development.
What is the top thing you need to start, stop or continue doing that's holding you back from making your leap? I have an idea or two…
If you're a know-it-all, does that make everyone else around you a know-nothing? Even if it's not your intention, it may be how you make others feel. Break the know-it-all cycle in your life and leadership.
This is a resource to discover if you're a Wisher, Persister or a Succeeder. It also includes specific homework to increase your impact and effectiveness depending where you fall on the goal achievement spectrum.
If your life feels out of whack, it's essential to ditch the scales and illusions of work life balance. Notice the fork in the road and make a mindful choice.
Enough with the conventional wisdom of "don't do this or that" to finally find happiness and fulfillment. Change is about doing and here are five do's to lose the hamster wheel and create a full life and professional success.
The key to success when you have responsibility without authority is to reframe the situation and take a new perspective. You can still  pave the way for meaningful action.
There are four states of stuck and once you know your flavor, the path forward becomes clear. Stop convincing yourself that it's better to be stuck with the known than step into the mystery of following a new path.
Crashes are always unanticipated. You can never know the extent or severity of your next challenge. What you can do is consistently and unwaveringly look for the good even in the midst of the worst kind of crap.
Wishing and wanting things to change will never make it happen. It's within your power to turn your wishes into reality. If you're a leader, these are three wishes that need to be granted ASAP.
I'd love to hear from you in the comments. How can I continue to add value to you on your personal development journey?
Want to make a change? Here's to a year ahead where we will all be:
A little less obsessed about perfection
A little more committed to having fun along the way
A little less wiling to tolerate those things that drive us bonkers
A little more willing to make a change even when it's feels risky
A little less driven to fit in everything
A whole lot more devoted to saying yes to the things and people who matter and letting the rest go
Get clear on your vision, values and most of all your next step in the five week eCourse, Get Unstuck and Choose to Move. It only happens once a year ~ 30% off through January 31, 2016.