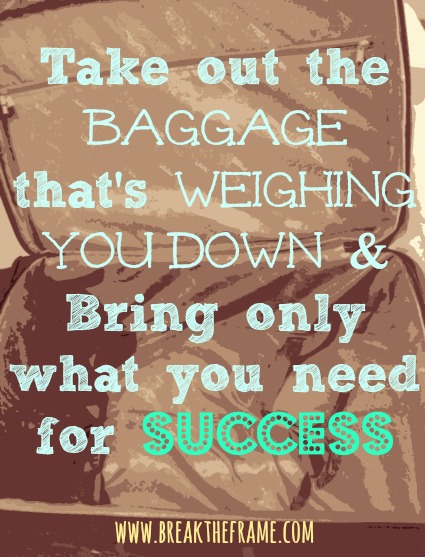 I want you to have exactly what you need in your success suitcase and help you toss all of that unwanted baggage that no longer fits and you no longer need. 
Today, I'm packing my bags for our annual family summer holiday and struggling to figure out how I can shove more into my minuscule suitcase. Physical baggage and life baggage; I'm guessing we both can let go of a heck of a lot more than we think at first blush.
I'm a big fan of "just in case" packing logic. Why not throw it in as long as it's not overweight, right?  Well, for this trip we're taking a teeny-tiny plane with major weight restrictions on our bags so my temptation to bring it all needs to take a hike.
In an attempt to stay focused, I'm drawing charts, making lists and loading it up by category in my packing cubes (they're a life saver!). Still, always happy to find an excuse to stop packing and start writing, I began to think about how you and I can lighten our loads for the new year.  What really needs to fit in a personal success suitcase and what can stay behind?
What's dragging you down that you keep carting around in your overweight suitcases filled with the baggage from your life and leadership?
Here's a packing list for you success suitcase.

 

Bring what you need and forget the rest.
PACK UP:
Relationships
Leadership happens through relationships, change happens through relationships, life happens through relationships.  Don't forget to always have room for your relationships and always leave some extra space for more meaningful connections in your life.
Work Ethic
Success takes hard work. Anyone who tells you that it's easy, or wants to sell you the fast track to six figures is only out to make a sale.  If you're willing to work hard, success is within your reach.
Play
Play brings joy, happiness, and lightness to even our darkest thoughts. When the work becomes "too much" to handle, seek ways to bring a sense of play into the mix and watch your attitude and experience transform.
Passion
If it doesn't light you up, why are you giving it your all?  Um, you're probably not. Every task on your plate will not be your favorite, but if you lead with your passion, you will bring a powerful energy to all that you do.
Challenge
Are you inspired by doing things that you can "do in your sleep?"  I'm not and most of my clients light up at the thought of a challenge.  Challenge brings out your determination and helps you to stretch and grow along the way. 
Creativity
This is a must-pack in your success suitcase.  Hit a road block? Try creativity.  Bored to death of the same old approach? Yup, creativity. Plateau in your success? I think you know what you need and it starts with creat and ends with ivity.
Coping Strategies
You will get frustrated and fail regardless of what's in your success suitcase that's why you need some healthy coping strategies to avoid packing up and giving up.  Deep breathing, exercise, positive visualizations are all healthy ways to find your center and keep going.
Learning
Everything you do, success of failure (or somewhere in between) yields learning. Take it forward with you into everything you do.
Leave some additional packing space for:
Resilience, Persistence, Humility Belief, Confidence and Commitment
UNLOAD:
Command and Control
Have a vision and enroll people in it, invite them to join you and move forward with shared purpose. Drawing a narrow line and telling people how to walk it? Puh-leeze.  There's no room for this in your success suitcase, let it go.
Blue Prints
Been there, done that so often you have a blue print?  Take the learning from the past, but leave the blue prints at home and find new paths and new possibilities instead.
Anger
Everyone gets frustrated, but boiling over into anger is simply unwanted baggage on your path to success. Anger is fire that burns and injures everyone in its path – including you.  Aren't you glad you made room for some new coping strategies?
Assumptions
I'll bottom line this: assumptions do not serve you.  Toss 'em out and make room for fresh perspectives, new ideas and unexpected relationships.
Blinders
Bad stuff does not disappear because you ignore it… in fact, it grows. Take off the blinders and put them where they belong – in the trash.
Hate
Hate is poison for the soul, heart and mind.  Hate hides the fact that we're all human, all doing our best and making our way in the world.  Hate is stopping you from being your best self.  This is baggage that needs to go immediately.
Doubt
You will only find success when you 1) Believe you deserve success 2) Believe you can achieve success 3) Believe you can create success… it's within your reach with some hard work (and other good stuff from your packing list above)  Doubt has to go.  Now.
Arrogance
It's one thing to work hard to create success and it's another to walk around dripping with entitlement and arrogance. Unless you want to turn everyone off who crosses your path, tap into your humility.  Arrogance is fooling you into thinking your better than or more deserving that someone else.  You're not.
Remove every last drop of:
Easy street thinking, negativity, laziness, hidden agendas, and blame
What else belongs in your success suitcase and what needs to be left behind… for good?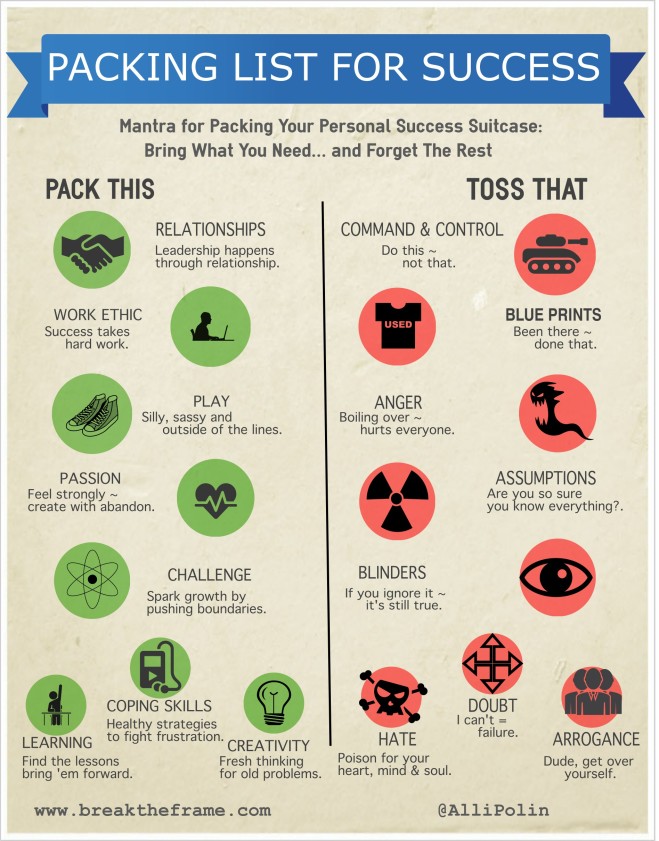 For coaching, consulting or speaking, Let's Talk!