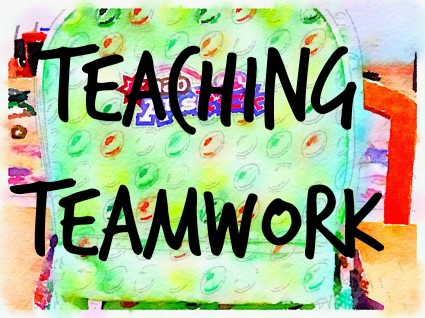 It's the start of the new sports season in Australia and our daughter is playing netball and our son, AFL footy.  It's an interesting time that most parents know well, filled with the shuffle between practices, games and team outings. Today, I had it easy as my son was on the footy field and daughter on the netball courts right next door.  I had an opportunity to observe both teams practice and the longer I watched, the more I began to wonder, how do you teach teamwork?  Both coaches were doing their best, but one was struggling while the other was succeeding.  What was the difference?
The scene on the footy field:
It looked like 100 kids were running individual drills (not really 100 but it was madness)
Kids were throwing, kicking and running the ball around and trying to avoid getting hit by everyone else's practice shots.
They had a big practice game where they ran as a pack after the ball.
The rhythm of the netball court:
Coordinated drills required two to ten girls bring focus and speed to their skill development.
Passes were constantly moving up and down the line.
Skills were not taught in isolation (getting open) but in coordination (blocking, getting open and passing)
My sixty minutes of observation clearly left me with a few ah-has about teamwork and leadership.  It would seem, that in one case, learning basic skills took priority over learning how to be a part of a team.  However, the netball coaches proved that instead of making skill and team development sequential, they can be integrated, taught and reinforced simultaneously.
Can You Teach Teamwork?  Absolutely.
It Starts with the Leader
Where is your focus as a leader?  Do you focus on a collection of individuals working side-by-side or a team that is  working in unison, each person playing a unique yet equally critical part?  Seasoned leaders know that training, coaching and skill development can still be done 1×1 without omitting the context of why it matters to the whole.
Create Opportunities for Teamwork
Do you tend to give assignments to individuals or encourage collaboration?  No matter what you may think, in most cases a single superstar isn't going to carry the team and be a part of the team.  Sure, there are some people who can run circles around everyone else, but really all they're doing is playing alone.  A team thrives when they know what it means to have each other's back, consistently give their personal best and how to play well with others.
Recognize Team Engagement
We've all heard it before and I'll say it again because it's true: What gets recognized gets repeated. What behaviors do you reinforce?  Do you recognize the behind the scenes players as much as the person that's always out in the front?  I'm not remotely suggesting that you stop thanking people for their individual contributions, but you must accept and understand the leader's responsibility to coach, develop and compliment the team as well.
Great coaches and leaders master the dance of zooming in and out, taking in the big picture yet still seeing each of the moving parts.  They bring a laser focus to required individual shifts that have an incredible impact on the team as a whole. More importantly, they give feedback, advice and counsel without fear because everyone wants to be a part of the magic mix that creates a great team.  Egos, put aside, in service of creating a rockstar team that sings.
What's your advice for creating a strong team? 
For coaching, consulting or speaking Let's Connect!